A Livestock Auction Market Report is a tool that gives you a look at how the Market is performing. But do you know how to read a Livestock Auction Market Report?
*Texas Farm & Ranch Solution, LLC brings you helpful information for your livestock operation. Texas Farm & Ranch Solution, LLC, and its associates offer no guarantees of profit from this information. Changes to your operation are at your discretion.
It's sale day at your local livestock auction barn. By following your herd plan, you know you have a few head of cattle you need to sell, so you take some time to pull up last week's Market Report for that barn.
We all do this.
Market Reports are one of the tools we use to analyze the Market. These reports are one of the factors behind our decisions to sell our cattle and where to haul them. But simply reading posted prices and weights will not give you the complete picture.
Did you know you could be basing your cattle business decisions on numbers irrelevant to your operation?
HOW TO READ A Livestock Market Report
As you browse the World Wide Web of Livestock Market Reports, you can conclude that they all tell the same story in various formats.
These reports show you the type of animal sold, average weight, and price.
The point of a Livestock Auction Market Report is to give you information about that day's sale. Reports vary from barn to barn, and the Market can change daily.
When your cattle unload at the sale barn, they will receive a back tag with a number that identifies the animal as yours. As the animal travels through the alley and ends up in the holding pen after it sells, that tag will stay with them.
HOW SOME LIVESTOCK BARNS GENERATE A MARKET REPORT
As the sale data of the animal is entered into the barn's computer system, it will generate your sale check. The line items of the bill will include the animal's ID tag, description, type, sold as, weight, price, and total for the animal.
All of this information collects through the computer system for all sellers.
If a livestock auction uses a computer system to generate sellers' checks, they can produce a Media Market Report. This report will be accurate because it is directly linked to the checks sent to sellers. Therefore, prices, weights, and headcounts cannot be altered without generating clerical errors for the barn.
Reports like this are not flashy and appealing. Nevertheless, more and more auction barns elect to publish a "prettier" version of this report.
If a Livestock Market Report is not generated through their computer program, an increased chance of human error could occur.
Check this out.
If I tell you I have $1,257,842.15 in my bank account, but my bank statement says I have $125,784.21 in my account, which one will you be more comfortable believing?
Likely, the bank-generated statement.
But the $1,257,842.15 I lead you to believe I have in my account looks a whole lot better.
The Car Lot of Cattle
All Livestock Market Reports are not relevant to you.
Sounds crazy, right?
For this part, let's take a trip to a car lot.
You want to buy a new truck. The salesman walks out to see how he can assist you.
"How much are trucks going for?" you ask the salesman.
"That depends on what you are looking for," is his obvious response.
"I want a four-door truck."
Still confused, the salesman replies, "The 4-door trucks range from $20,000 to $85,000."
"What is the difference between these trucks?" You ask the salesman.
"Well, there's a lot of difference," replies the salesman. "They all come with standard features like tires and a steering wheel. Some trucks are fully equipped with 4-wheel drive and leather seats. A few out there aren't fancy, but they get you where you are going. Some of these aren't equipped with 4-wheel drive but have all the other bells and whistles."
"So," replies the salesman, "What kind of truck are you looking for?"
Your Cattle Prices
Cattle are like trucks. They all come with standard looks and body shapes, but the "extras" make them more desired.
Let's use 450-pound steer calves for this example.
A light-boned, light-muscled steer calf weighs 450 pounds. Coming on the scale behind that calf is a heavy-boned, heavy-muscled steer calf that weighs 450 pounds.
Both steers weigh 450 pounds,, so they will be in the same weight category on any Market Report. However, the light-boned, lighter-muscled calf will likely bring less than the heavy-boned, heavy-muscled steer.
Can you see why the Livestock Auction Market Reports are misleading?
If you sell a steer that weighs 450 pounds, your price will depend on what you bring the buyers.
The price will vary depending on what your cattle are equipped with.
If your livestock has heavy bone and muscle, you will likely have an easier time getting a higher price. These are the "fully-loaded 4-wheel drive" trucks.
Selling a lesser-quality animal is the same as selling one of those trucks that get you where you are going but don't have all the bells and whistles.
What about the grade breakdown?
There are Livestock Auction Barns that break down their Market Report based on how they feel an animal would grade.
Of course, barns vary in how they come up with these results, but grading a live animal is an opinion of what they see.
Buyers "grade" your animal based on what they see. They evaluate the structure and overall potential of the animal.
A large frame, heavy muscle calf will grade higher than a more petite frame, lighter muscle calf. The larger framed animal has the potential to grow and turn into the thriving end-result animal the buyers are looking for.
Your opinion of your animal could differ from what a buyer sees in your animal.
We all like to think we have the best of the best.
But the buyers are the ones who know what orders they have and what they are looking for. Therefore, bringing in cattle that are not in high demand by buyers will not improve your bottom dollar.
LIVESTOCK AUCTION MARKET REPORT TERMINOLOGY
TYPE
The livestock auction determines the "type" of animal based on your check-in paper when you arrive at the tagging location. BULL, COW, YEARLING, BULL CALF, STEER, and HEIFER. Some livestock auctions will sell sheep, goats, pigs, horses, etc., and will also be listed on their market report.
TXFRS Tip: If your livestock auction does not identify the "type" of animal on your check-in paper, chances are they are basing their Livestock Auction Market Report on what they think you brought in based on the orders their buyers used to purchase the animals.
I interviewed a livestock auction owner who publishes a handwritten market report every week.
He admits he produces the report after reviewing the order buyers' paperworkr also revealed that he does not always know if an order contained mixed-sex orders such as steers, bulls, and heifers of the same weight.
Proceed with caution when you use a market report generated in this way for your selling decisions.
SALE TYPE
Livestock Auctioneers sell cattle and other animals in different ways.
Some animals are sold by the "Head" (HD), meaning the price of the animal is sold as an individual and not priced per pound.
Animals sold by "Weight" (WT) are sold by the pound. This can be confusing if you are listening to a sale, so read Tips for Understanding a Livestock Auctioneer to gain insight into how an auctioneer sells.
UNDERSTANDING PAIR SALES
A "Pair" (PR) is a sale that contains a Dam and Offspring Sale.
If you bring a cow/calf pair to the sale, but your check statement does not show a "pair" sale, there are different scenarios that may have played out:
1) The cow/calf pair is tried together, but no buyers place bids on them.
2) The cow has a fault of some kind that the auctioneer feels will be beneficial for the pair to be split.
3) The calf has a defect that will keep it from being raised by the cow.
4) The calf is quite sizable and could maintain adequate growth on its own if separated from the cow.
MARKET REPORT GROUPS
"Group Weight" (GW) refers to a group of two or more livestock that sell by weight with a price per pound.
An example of this is:
A uniform group of 6 heifers sells together. Their total weight is 3975 pounds. They sell at the pound price of $1.40. The total price for the heifers is $5565.
"Group Head" (GH) is a group of two or more livestock sold by the head. The sale price is multiplied by the number of animals in the group.
Example: Two Angus bulls sell for a by-the-head price of $2600. The sale price results from multiplying the price by the two bulls. The total cost for the bull is $5200.
"Group Pair" (GP) is the sale of more than one cow/calf pair in a group. The same math applies here as it does to Group Head.
An example is six cow/calf pairs sell for $2550 per pair. The total price for this group is $15,300.
LET'S READ A LIVESTOCK AUCTION REPORT
This Livestock Auction Report is in a simple format. It's not "pretty," but it contains a snapshot of prices and types of livestock at the sale.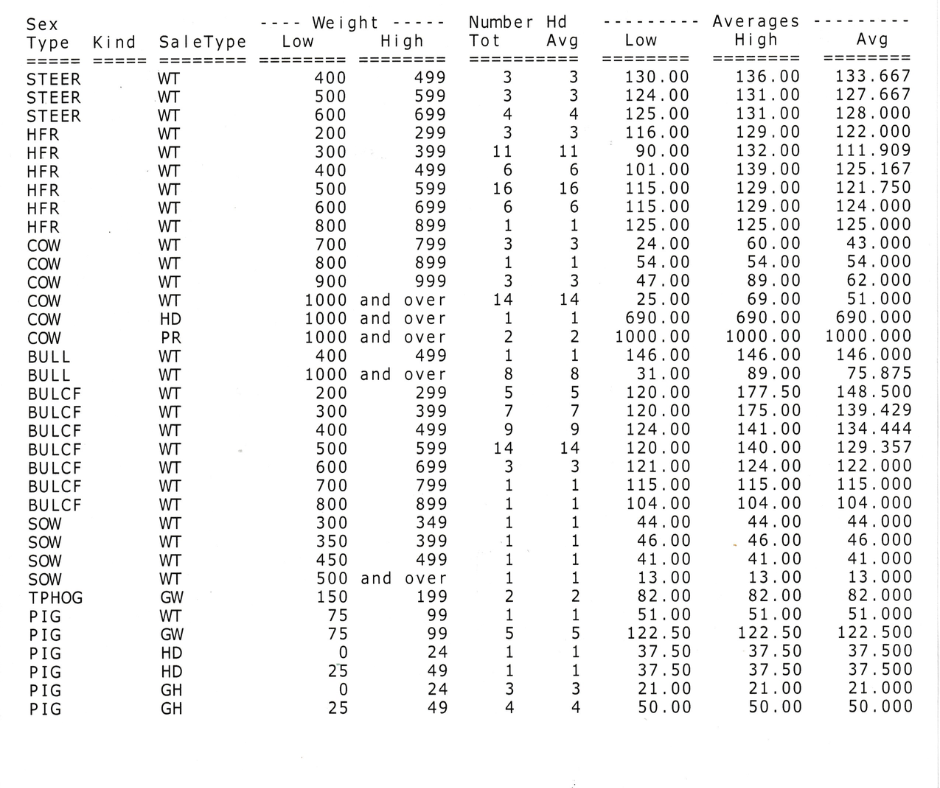 Let's look at the set of 500-weight heifers.
From this report, we can see that 16 heifers had weights between 500 and 599 pounds. The lowest price per pound for at least one of these heifers was $1.15. The highest price was $1.29 per pound.
As you can see, the report does not show the animals' quality. The only way to see that is to be at the sale as these animals are coming thru the ring.
NOW YOU KNOW HOW TO READ A LIVESTOCK AUCTION REPORT
Remember, a Livestock Auction Report is a tool to help you give you insight into how the Market is performing. However, it should never be the only way to decide when and where to sell your cattle.
Build relationships with livestock auction owners. Take some time to observe and learn from the sales you attend. Ask questions. Take notes.
Use this information to form an educated decision for your operation.
Learning the Livestock Market is a continuous skill you should stay active with to meet your Herd Goals.
Have you ever wondered if the time and expense you put into cutting your bull calves really worth it? Does it pay to cut bull calves and sell them as steers? Find out if your effort will maximize your profits.